Syria: Pro-Assad protesters attack US embassy in Damascus
Syrian government loyalists stormed the US embassy after the ambassador visited Hama, a city that has become a focal point of the protest movement.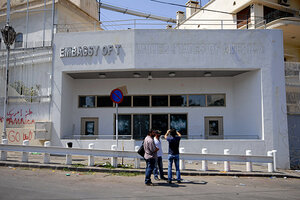 AP
Supporters of Syrian President Bashar al-Assad stormed the US embassy in Damascus Monday during a demonstration responding to American Ambassador Robert Ford's weekend visit to Hama, the scene of the country's largest antiregime protests.
Waving Syrian and Russian flags and carrying portraits of President Assad, the crowd surged around the US embassy in the Abu Rummaneh neighborhood. Several men scaled the walls and at least 10 of them defeated the barbed wire defenses to enter the compound, according to diplomatic sources.
The sources said that the embassy suffered "extensive damage," but none of the staff was hurt. Syrian security forces watched the protests from the sidelines and intervened only to disperse the crowds after the embassy compound was penetrated.
The French embassy also reportedly came under attack by another group of protesters.
Despite the seriousness of the incident, Mr. Ford is unlikely to be recalled over the incident. Ford has been in Damascus for only six months and the Obama administration's congressional critics, who opposed his being sent to Damascus in the first place, would seize on his recall.
---