Israel's boycott ban meets swift resistance
The Israeli parliament passed a law Monday banning boycotts against the state and its settlements, a move critics call an unconstitutional assault on democratic values.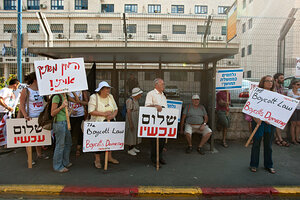 Sebastian Scheiner/AP
Israel's parliament late Monday approved a controversial law banning boycotts against the state and Jewish settlements, a retaliatory move against growing calls for economic and political pressure on Israel to withdraw from the West Bank amid stagnant peace talks with the Palestinians.
The law fines groups or individuals that promote anti-Israel or antisettlement boycotts and exposes them to lawsuits of nearly $10,000 without having to prove any damage.
Though proponents argue that the law is necessary to protect Israeli citizens against campaigns to delegitimize Israel and make it into a pariah state, the bill's passage has raised a storm of criticism alleging that the measure erodes the country's democracy and will ultimately weaken its international standing.
"This is a blatant and a resounding shutting of people's mouths. This is a thought police," wrote Ben Caspit, a columnist for the daily newspaper Maariv. "The news of this law passing will spread throughout the world like a fire in a field of thorns … . Our image, already at a low, will continue to scrape the bottom of the barrel. The delegitimization will increase."
The breakdown of peace talks has prompted the Palestinian Authority to promote an economic boycott on anything manufactured in the Jewish settlements or with links to towns in lands claimed by the Palestinians as part of a future state.
---