Palestinians' gambit for UN recognition wobbles
Even as the Arab League threw its weight behind the Palestinian Authority's bid for UN recognition of a Palestinian state, officials are having second thoughts.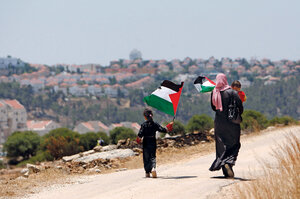 Mohamad Torokman/Reuters
After 20 years of negotiations with Israel and no lasting peace, Palestinians are pursuing a more unorthodox route: getting the United Nations to recognize Palestine as an independent state – and, ideally, welcome it as a new UN member.
Two-thirds of Palestinians support the UN bid, which has lifted their expectations of sovereignty.
But now, with the potential vote just two months away and the paperwork due this month, Palestinian Authority (PA) officials appear to be getting cold feet. The United States has vowed to veto the move, all but guaranteeing that Palestinians would be denied full UN membership.
While the UN could instead make a symbolic declaration or upgrade the PA's observer status, officials are increasingly worried that a symbolic but toothless measure could prompt popular frustration and anger that would weaken the PA and strengthen hard-liners like Hamas.
"We need practical help in ending the occupation. Symbolic or declarative achievements [are] not exactly what we are looking for – although useful – [they're] not good enough," says Palestinian government spokesman Ghassan Khatib. "The Palestinian leadership has been promising or expecting to deliver in September. When it fails, it will undermine its public standing and strengthen the standing of the opposition."
---