US recognition of Libya rebels could bring more funds
At an Istanbul meeting, Secretary of State Clinton announced US recognition for Libya's rebels and pledged more aid to help them oust Muammar Qaddafi.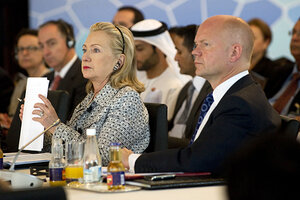 Saul Loeb/AP
(This story was updated after posting to include a Benghazi-based analyst's views and more comment from the Libya contact group.)
After months of conflict and NATO airstrikes in Libya, the United States on Friday recognized the opposition's Transitional National Council (TNC) as the "legitimate governing authority" in Libya as it continues its NATO-backed bid to remove Libyan leader Muammar Qaddafi.
Meeting for the fourth time to chart the future of a "post-Qaddafi era," the 30-member Libya contact group in Istanbul on Friday pledged more money, bestowed more legitimacy, and promised more NATO airstrikes to help increasingly organized opposition forces conclude an operation that has dragged on far longer than anticipated and still has no end in sight.
Britain pledged four more jet fighters, but the belated US recognition may do more to assist the cash- and fuel-starved opposition with freeing up frozen funds and receiving military assistance.
US Secretary of State Hillary Clinton said that "increasingly the people of Libya are looking past Qaddafi," because "they know, as we all know, that it is no longer a question of whether Qaddafi will leave power, but when." The TNC has become the "appropriate interlocutor in dealing with Libya's present and addressing Libya's future," said Mrs. Clinton.
---