Iraqi torture victim's tale reveals nation's darker side
Ali, a member of the Methboub family that the Monitor has followed since 2002 in Iraq, continues to struggle with the abuse he suffered after being unjustly imprisoned for 2-1/2 years.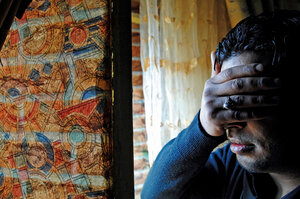 Scott Peterson/Getty Images
Ali was always the least troublesome Methboub son, a dutiful member of the Iraqi family whose saga the Monitor has chronicled since 2002. So his arrest and imprisonment shocked matriarch Karima Selman Methboub and her children, beginning one of the darkest periods for a Baghdad household that has resiliently survived every other aspect of Iraq's long war.
These days, Ali wears jeans and keeps his hair slicked back with gel, like any other 27-year-old Baghdadi guy. But a closer look reveals the toll of jail: strands of gray hair and scars from the torture he endured while locked away for 2-1/2 years for crimes he didn't commit.
The internal scars are harder to detect. But they are obvious to Mrs. Methboub: "He does not feel he is in real life yet. He is still in prison."
From that July afternoon in 2008 when Ali was picked up at a neighborhood coffee shop by a joint US-Iraqi patrol, the Methboub family was dragged into a world of torture and intimidation, forced confession and legal ambiguity, of bribes demanded and paid that has destroyed the lives of thousands of Iraqis.
When arrested, Ali had just returned from Jordan, where he trained to be a Ministry of Electricity guard. He was carrying a pistol, with authorization. But a masked Iraqi working for the United States pointed him out as a possible militant.
---