Israeli activists shift from Palestinian cause to pocketbook concerns
Tent-city protests over surging living costs started last week in Tel Aviv, the traditional hub of peace activism, and spread throughout the country. Housing prices have spiked 30 percent since 2007.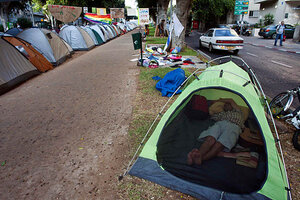 Nir Elias/Reuters
Israeli Prime Minister Benjamin Netanyahu has come under pressure this week from a wave of left-wing protests that started in Tel Aviv, the country's traditional hub of peace activism.
But instead of complaining about moribund peace talks with the Palestinians, the bohemians are protesting the government's alleged failure to control surging housing costs.
At a time when many here worry about growing isolation because of international recognition of a Palestinian state, the protests underscore how much the Israeli public – particularly the rising generation – has turned away from geopolitics to focus on bread-and-butter issues.
"In general, young people are shying away from politics and don't want to take a stand on Israeli-Palestinian issues," says Dahlia Scheindlin, a Tel Aviv-based public opinion expert and political consultant. "They feel like it's a hopeless cause. It also smacks of old people's issues. It's not sexy."
To be sure, there are peace activists among the demonstrators. But rather than congregating in Rabin Square, a symbol of the left-wing peace movement, the Tel Aviv protesters have set up a tent city along Rothschild Boulevard, a tony thoroughfare that has become synonymous with high-end real estate.
In nearly a week since the first tents went up, taking a cue from Egypt's Tahrir Square, the protests have spurred a no-confidence motion in parliament and forced Netanyahu and his finance minister to scramble to show they are taking action to counteract a more than 30 percent increase in housing prices since 2007.
But despite government concessions, the protests have spread beyond Tel Aviv, with tent cities sprouting in far-flung cities and suburbs throughout the country.
---