US military officials in Iraq warn of growing Iranian threat
American military officials say the upcoming US withdrawal has emboldened Iranian-backed militias, which they blame for recent deadly attacks and allege are stockpiling weapons.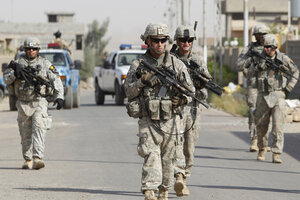 Saad Shalash/Reuters
As the clock ticks toward full US military withdrawal from Iraq, American officials who want troops to stay longer continue to warn of a growing Iranian threat.
Some argue that the diminishing US presence is turning Iraq into an even-more contentious regional battlefield, giving rise to a low-grade war between the remaining American forces and what the US says are militias tied directly to Iran's Revolutionary Guard.
Prime Minister Nouri al-Maliki, whose rule is dependent on Iraqi parties with ties to Iran, appears unable or unwilling to crack down on the most lethal Iranian-back militias, blamed for June attacks that killed the largest number of American forces in two years.
While military officials say Iraqi security forces have continued to fight Shiite militias linked to Iran, the US is increasingly conducting attacks alone – attacks authorized for self-defense under the status of forces agreement between Washington and Baghdad that expires this year.
"We always want to work with the Iraqi security forces … but we're not going to sit back and get shot at and can't defend ourselves. So if we can't have the help or don't have the help then we will in fact act to defend ourselves," says US military spokesman Maj. Gen. Jeffrey Buchanan.
---