A US soldier reunites with the Iraqi girl he saved
For US Army Capt. Tom Hickey and his platoon, saving Sadeel in 2007 was the best part of their tour in Iraq.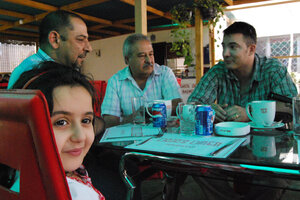 Jane Arraf
Eight-year-old Sadeel giggles and holds up her curly black hair, revealing the faint scar from a bullet wound.
"I'm so happy to see you," says US Army Capt. Tom Hickey, sounding nervous and slightly overwhelmed. It's the first time the two have seen each other since he helped rush her to the hospital four years ago, her body seemingly lifeless in her father's arms. "I don't know if you remember me. It was a long time ago," he says, looking at the lively little girl across the table.
In 2007, when I first met him, Hickey was a lieutenant and a platoon leader in the volatile neighborhood of Amariyah. Now, deployed again in Baghdad, he sits at a restaurant with Sadeel and her parents, who have traveled from their neighborhood into the unfamiliar territory of the Green Zone to see the young officer who helped save their daughter's life.
Sadeel doesn't remember the operation that removed the bullet from her throat, where it had lodged after she was hit by a stray gunshot in her violent neighborhood, or her parents' desperate dash into the street with their wounded daughter. But she recalls the kindness of Hickey and his soldiers, who visited the family and brought them gifts after they had left the hospital.
"He gave me lots of crayons and they gave me a toy car – I still play with it," she says shyly.
Hickey uses some of the Arabic he has learned during his time in the Middle East to talk with the family. "Two months ago, I married my sweetheart in my parents' house," says Hickey, of Stow, Ohio, holding up the hand with his wedding ring.
---