Gaza border violence: Another threat to Palestinian statehood?
Israel said Thursday Gaza militants fired 24 rockets across the border so far in July. Many Gazans are worried that an escalation could torpedo Palestinian reconciliation and statehood efforts.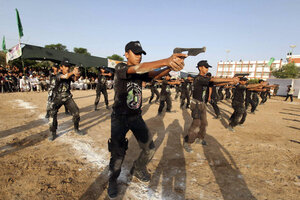 Mohammed Salem/Reuters
As Palestinian leader Mahmoud Abbas ramps up his campaign for a United Nations vote on statehood in September, the Gaza Strip is buzzing with speculation that Israel and radical Palestinian elements could derail the effort with cross-border violence.
Militants in the Hamas-run territory recently launched Qassam rockets into Israel for the first time in three months, breaking a tenuous cease-fire and drawing retaliatory attacks from Israel. Israel said yesterday that 24 rockets have been fired on its territory so far this month.
Many Gazans blame Israel for provoking the violence in a bid to torpedo not only the UN statehood bid but also a tentative reconciliation deal between Hamas and its secular rival, Fatah. The unity deal, which is hung up on final details, would end a four-year internal divide and allow the rivals to present a united front against Israel.
Israel's Prime Minister Benjamin Netanyahu has urged President Abbas, who also heads Fatah, not to reconcile with the Islamist Hamas movement, Abbas's bitter foe and considered to be a terrorist group by the US and Israel.
"Israel will save no effort to spoil the agreement. Israel well knows the renewal of violence along the Gaza-Israel borders will hamper the Palestinian efforts for both statehood and reconciliation," says Mukhaimar Abu Saada, a Gaza-based political analyst and writer. "This also means that Israel can no more use the internal Palestinian conflict as an excuse to avoid carrying out its obligations regarding peace talks and solving the prolonged conflict with the Palestinians."
---
Follow Stories Like This
Get the Monitor stories you care about delivered to your inbox.