Islamist show of force in Egypt's Tahrir Square angers activists
Salafis, who follow an ultraconservative brand of Islam, had agreed to a set of unified demands for today's rally with secular activists. But they reneged, even shouting pro-military chants.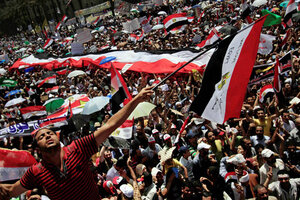 Khalil Hamra/AP
A rally that was supposed to demonstrate unity between Egypt's Islamist and secular liberal forces instead showcased the divide between the two.
Thousands of Islamists flooded into Cairo's Tahrir Square today, dominating the protest and chanting slogans about turning Egypt into an Islamic state governed by sharia, or Islamic law.
"We come from all of Egypt's governorates. We are thousands, and we are here to break our silence, and to say that we want Egypt to be an Islamic country," said one man with a long robe, beard, and shaved mustache typical of ultraconservative Salafi Muslims. "We will not accept that the minority impose its will on the majority."
Neither he nor his five companions huddling under the shade of a scraggly tree in Tahrir would say where they came from or give their names, though they said they had been bused in from outside Cairo.
The Islamists' show of force angered the secular and liberal activists who have camped out in the square for weeks now to demand a faster pace of reform from Egypt's interim military rulers. It also evoked latent fears that Islamists will try to dominate Egyptian politics after the revolution.
"They want to Islamicize the whole nation, or have the constitution written by their own hands," said Fady Phillip, whose group has been in Tahrir since July 6. "They're trying to tell the Supreme Council of the Armed Forces that, 'We're still here and we still have the last word.' "
As he spoke, men kicked at the wall of the tent he was standing in and a scuffle broke out.
But the strident religious tone of the Islamists, many of whom appeared to be from the ultraconservative Salafi strain of Islam, will likely backfire, says Ibrahim El Houdaiby, an analyst who studies Islamist groups.
---