Iraq's government shuts down amid 120-degree temps - and no A/C
Even Iraqi government ministries can't keep air conditioning on amid a summer electricity crisis. With the start of Ramadan today, observant Muslims are facing 14 hours without water.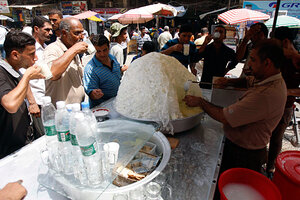 Atef Hassan/Reuters
Iraq declared a government holiday due to the heat for the first time today, as temperatures soared above 120 degrees F. (50 degrees C.) in the midst of a summer electricity crisis that has sparked public protests.
While the mercury has passed 120 degrees before, this year the scorching temperatures coincide with the first day of the holy month of Ramadan, when observant Muslims refrain from eating or drinking water from dawn until dusk. With Ramadan falling in the middle of summer this year and dawn coming just after 4 a.m., those fasting will go more than 14 hours without water.
"During my 31 years of work, I witnessed days when the temperature reached 53 [degrees C.] but this is the first time in my working life when the government announces a day off because of the hot weather," says Salam Solaiman, from Iraq's meteorological office.
Power shortages spark protests, shut down A/C
The electricity shortages, which have deprived even government ministry buildings of their air conditioning, have become a politically explosive issue.
Amid protests sweeping the Arab world, those in Iraq have focused on poor public services, particularly electricity shortages. With billions of dollars poured into reconstructing the electricity sector by the United States and Iraq, most people blame the continuing shortages on corruption as well as incompetence.
---