How Turkey's military upheaval will affect NATO
The resignations of Turkey's top military brass, along with the detention of scores of officers, have sparked fears that the capability of NATO's second-largest army is being eroded.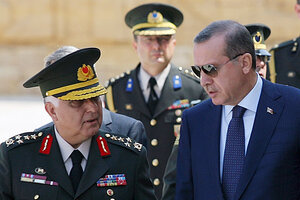 AP
The resignation of Turkey's top four military officers last week has been heralded as marking the end of a near decade-long power struggle between the government and armed forces.
But the resignations, along with the ongoing detention of scores of officers in what government opponents claim are politically motivated criminal probes, have sparked fears that NATO's second-largest army could face an operational crisis.
On July 29, Chief of General Staff Isik Kosaner, and the heads of the Army, Navy, and Air Force all requested early retirement. Kosaner said it had become "impossible for me to continue serving" due to what he called the unjust detention of 250 serving and retired military personnel, including generals and admirals.
Their departures came hours after the indictment of 22 high-ranking soldiers allegedly involved in an Internet smear campaign against the government. It also followed a confrontation with the government over an upcoming meeting of the Supreme Military Council, which makes decisions on military promotions.
12 percent of generals, admirals in prison
Traditionally, Turkey's politicians have merely rubber-stamped the decisions suggested by the Army, but since last year, Prime Minister Recep Tayyip Erdogan has demanded the final say in military appointments.
Yesterday, Mr. Erdogan joined remaining senior officers for the four-day meeting in which he could now remold the military leadership.
"The resignations alone are not a problem, but the arrests are a far bigger issue," says Gareth Jenkins, a military analyst in Istanbul with connections to Turkey's armed forces.
---