Why Arab leaders are largely silent on Syria's brutal crackdown
Arab leaders put aside the creed of Arab unity to speak out against Libya's Qaddafi. But they are far more wary of Syria, whose Assad regime is a much more influential player.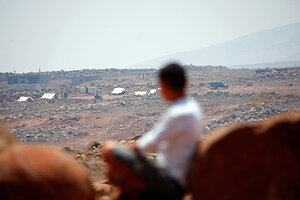 Omar Ibrahim/Reuters
The Syrian regime's crackdown on the rebellious city of Hama has triggered an international outcry, with ambassadors recalled from Damascus and the United Nations Security Council convening to discuss the worsening violence.
But there has been little response from Arab states to the four-month crisis in Syria, which has left some 1,500 people dead and some 10,000 detained.
While Arab leaders put aside their adherence to the traditional creed of Arab unity and their distaste for public squabbles to support international action against Col. Muammar Qaddafi's regime in Libya, they are far more wary of Syria. Syrian President Bashar al-Assad's regime sits in the heart of the Middle East and exerts influence – sometimes malign – over several neighboring countries.
---