Why Mubarak's trial may not bring Egypt full justice [VIDEO]
Egyptians have pushed hard for a speedy trial of ousted President Hosni Mubarak, who appeared in a Cairo courthouse today. But key aspects of transitional justice are being overlooked.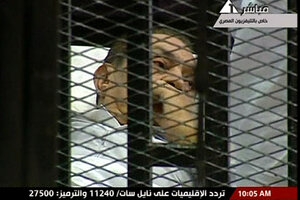 Egyptian State TV/AP
Former Egyptian president Hosni Mubarak appeared in court today for the first time, marking a milestone for Egypt as the authoritarian leader of three decades is tried for corruption and for ordering the killing of protesters who ultimately swept him from power.
Mr. Mubarak's speedy trial has been a key demand of protesters, and Egyptians watching on a large screen outside the compound where the trial is being held cheered when they saw their former ruler inside the metal cage used for defendants in Egyptian courts.
But amid tremendous public pressure for convictions, rights activists and justice experts both here and abroad warn that his trial, and trials of other former regime officials, are being conducted in a way that may do more to deny Egypt real justice than to implement it.
"With a very rapid trial, it's not just the accused who could lose, it's the victims. It's about whether that trial is going to expose what really happened. It's better to have justice quick, but the most important thing is to have real justice," says Nicholas Koumjian, a lawyer whose experience trying war criminals includes serving as principal trial attorney in the case of former Liberian president Charles Taylor. "It's very important that any trials that take place are legitimate, so that people in 10-20 years say, 'Justice was done.' "
Top issues hindering justice in post-revolution Egypt
---