In Israel, raft of new laws shows rise of the right
A spate of right-wing legislation is picking up supporters in the Israeli public, frustrated with uncertainty and their international isolation.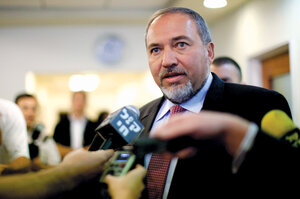 Uriel Sinai/Reuters
Critics say Israel is forsaking its democratic ideals with a right-wing agenda.
Avishai Amir, a former spokesman in the left-wing Labor government of the 1990s, begs to differ.
Take the recent nakba law, for example, which bans public funding for groups that mark Israel's independence day as Palestinians do: by declaring the creation of the Jewish state to be a nakba, Arabic for "catastrophe."
"The law says that the state of Israel won't pay money for demonstrations against it. That's it. It's not a law against democracy," says Mr. Amir, who has shifted from left to center. "I don't want my taxes to finance a demonstration against me.... Should I pay because [the Palestinians] didn't agree to set up a country then? I have to pay because I won and they're sad?"
McCarthyism or a 'necessary bulwark?'
Critics have cast the spate of new legislation as a McCarthyist tactic that threatens the protection of minorities and free speech afforded by Western democracies. But a growing number of Israelis increasingly see such measures as a necessary bulwark against those who would undermine Israel – from without or within.
Israel faces volatile times: It has had four national elections in a decade, and is now surrounded by Arab countries in unprecedented turmoil. It faces an increasingly powerful Iran, and it fears growing isolation as a result of a Palestinian statehood recognition.
Foreign Minister Avigdor Lieber­man, whose party and its allies are spearheading the legislation, excels at projecting the strength and unambiguous leadership some Israelis seek in response to such uncertainty.
---