Syria defiant despite increased regional pressure
Turkey's foreign minister pushed Syrian President Bashar al-Assad today to end the violence. But Syria, which launched more assaults today, has rarely yielded to such pressure in the past.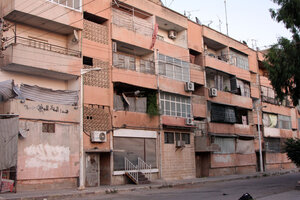 Zuma Press/Newscom
Syrian President Bashar al-Assad finds himself increasingly isolated as Syria's neighbors break their silence to join an international chorus of criticism over the worsening violence.
In the latest signal of regional displeasure with the Syrian authorities, Turkish Foreign Minister Ahmet Davutoglu traveled to Damascus today to deliver a stern warning that Ankara has "run out of patience" with the harsh crackdown that has left more than 2,000 dead since the uprising began.
While Turkey has taken the lead in speaking out against Syria's handling of its internal crisis, Arab countries have broken their silence for the first time to express disapproval of the ongoing violence.
But the increased regional pressure on Damascus may not yield immediate results, analysts say. Over the past decade, the Syrian regime has rarely succumbed to external pressure and instead has earned a reputation for deftly playing off one side against another.
---