Case against Egypt's Mubarak is shoddy, say some lawyers
Former Egyptian President Hosni Mubarak makes a second appearance at a Cairo court house today, where nearly 100 lawyers engaged in shouting matches and shoving as they argued about the case.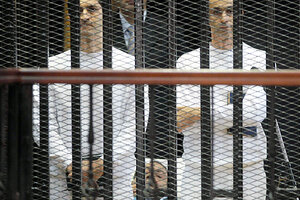 Reuters
Egypt's former President Hosni Mubarak appeared in court Monday as advocates for a guilty verdict complained that the state's case against him was shoddy.
Mr. Mubarak is charged with corruption and with ordering the killing of hundreds who died in the uprising that swept him from power on Feb. 11 this year. Without a thorough and fair investigation of those charges, some worry that a Mubarak conviction would be hollow – and undermine the people's faith in the justice system at a delicate time of transition.
Lawyer Gamal Eid said that the state should conduct a new investigation and that the prosecutor general should resign.
"This is a very important step in the path of regaining or restoring the trust in the Egyptian judiciary," says Mr. Eid, who is representing families of 16 of the more than 800 people killed in the uprising.
Trial resumes Sept. 5; no more TV coverage
Nearly 100 lawyers swarmed near the front of the courtroom hours before the hearing began Monday, their shouting matches at times turning to pushing and shoving as they argued over their demands. Judge Ahmed Refaat sharply rebuked them when he took the stand, refusing to continue until they were seated and quiet.
Lawyers representing the family members of some of those who died were pleased that Judge Refaat ruled that Mubarak's case would be rejoined with that of Egypt's former Interior Minister, Habib El Adly, who is also charged with killing protesters. The trial will resume Sept. 5.
---