Libya erupts as Qaddafi's compound falls to rebels
The sprawling Bab al-Aziziya – the symbolic heart of Muammar Qaddafi's regime – fell to the Libyan rebels today, sparking wild celebrations in much of Libya.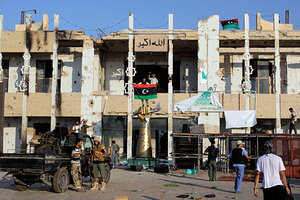 Sergey Ponomarev/AP
In 24 hours, Muammar Qaddafi has lost the two symbols of his regime. Green Square, where he was fond of delivering rambling harangues against his domestic opponents and foreign antagonists like the US, is now being called Martyrs' Square. Bab al-Azizya, the gated residential and military district that acted as the nerve center for his regime, has been largely overrun.
Al Jazeera has been carrying hours of live footage of ecstatic Libyans stomping on a gold head of Qaddafi ripped from a monument to himself at the compound, driving their cars in circles over a massive Qaddafi-era flag in Green Square, and taking gold-plated AK-47s and other items from his compound. Sky News interviewed a man wearing a rope-thick gold chain and Qaddafi's generalissimo cap outside one of his homes. The man said he'd taken them from Qaddafi's bedroom.
Where's Qaddafi? It's anybody's guess at the moment. But for the millions of Libyans who have backed an uprising that began as a demonstration against the arrests of human rights lawyers in Benghazi on Feb. 15 and evolved into an armed, national movement to end 40 years of one-man rule, today was the day of victory. There is almost certainly some fighting ahead, and the challenges to building a new Libya – from tribal rivalries to a damaged economy to the absence of any meaningful institutions to build on – remain great.
---