Turkish bombing campaign against PKK signals shift in strategy
The Turkish government's six-day campaign that has killed up to 100 Kurdish rebels in Iraq suggests emphasis on military might over diplomacy in dealing with the guerrillas.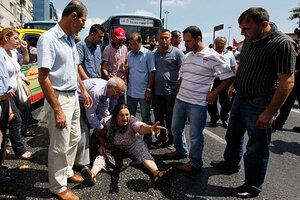 Murad Sezer/Reuters
Turkey has cracked down hard on Kurdish rebels in northern Iraq, responding to their attacks by hitting guerrilla bases with air strikes. The bombing campaign, coming amid rising tensions with the country's significant Kurdish minority, signals a shift away from diplomacy to military might in dealing with the rebels.
Turkish leaders today claimed to have killed up to 100 Kurdish rebels following six days of intense bombing of their bases. The bombing campaign was launched following an ambush last week in which the rebels killed eight Turkish soldiers near the Iraqi border, after which Turkish Prime Minster Recep Tayyip Erdogan said his government had "run out of patience."
"The state is obliged to carry out these operations for the peace of the nation and it is the natural right of the state to do so," said Mr. Erdogan yesterday.
Despite reports of civilian casualties and condemnation from the president of autonomous Iraqi Kurdistan, Erdogan vowed to continue the attacks on the Kurdistan Workers Party (PKK), a separatist guerrilla outfit that has been fighting the Turkish state for 26 years. Turkey, the US, and the European Union have all designated the group to be a terrorist organization.
Rising tension between government, Kurdish minority
The assault comes amid rising tensions between the Turkish government and the country's Kurdish minority since June elections. Candidates backed by the Kurds, who make up almost a fifth of Turkey's population, performed well in the poll, garnering 36 seats. But after some members of parliament were barred because of PKK-related convictions, the Kurdish bloc boycotted parliament – a boycott that is still in effect.
---