Libya rebels, triumphant in Tripoli, now face a different kind of battle
How the rebels address immediate challenges – including regional and tribal divisions, as well as a thirst among some for revenge – will signal their ability to govern fairly in a new Libya.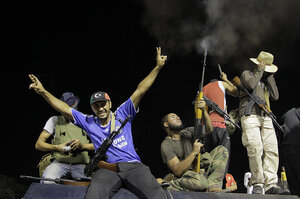 Sergey Ponoma rev/AP
Benghazi and Tripoli, Libya
Libya's rebels have lost one of their greatest assets, the common enemy that drove an untrained band of students, shopkeepers, and bureaucrats into a guerrilla army that – with NATO's help – defeated a tyrant: Muammar Qaddafi.
Mr. Qaddafi remains at large, with rebel militias scouring his shabby palaces in Tripoli and marching on his hometown of Sirte to firmly slam the door on his 42-year reign. But whatever slim hope he and his sons had of keeping power has been extinguished. The "mad dog" of the Middle East, as former US President Ronald Reagan called him, is finished.
The near-total collapse of the regime has overjoyed the rebels, who lost hundreds of comrades in the conflict. Millions of average citizens in this oil-rich North African nation are elated as well. But the true test of the rebels' unity – if they can set aside a thirst for revenge and long-simmering regional and tribal rivalries – begins now.
If they can hang together and restore order, Libya's oil wealth and relative homogeneity – in contrast to Iraq's ethnic and sectarian divisions – will give them a better-than-even shot at building a new order in a country with few working institutions and a culture of tyrannical caprice rather than the rule of law.
If they can't, then the threat looms of a wider, more chaotic civil conflict than the six-month war to oust Qaddafi.
Ali Senussi, a grandfatherly leader of Libya's Obeidi tribe, is a warning of what can go wrong. He's elated – and angry.
---