Can Syria avoid civil war?
Syria's activists say they want peaceful opposition to the Assad regime. But one who just escaped to Lebanon says that many worry the country will fall into civil war.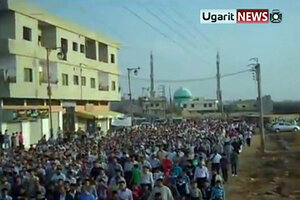 Ugarit News Group via APTN/AP
After withstanding five months of a brutal crackdown by Syrian security forces, Syria's opposition activists are pinning their hopes on an accelerated international intervention to help topple the regime of Bashar al-Assad, the Syrian president.
The activists say they want to maintain a peaceful opposition to the Assad regime, but without external support to help protect them, they fear the confrontation will worsen in the months ahead and the country could slip into civil war.
"The regime is going to do more killing, so the only way we can win is to have neutral observers and lots of them in Syria to monitor what's happening," says Ahmad, a young opposition activist from the port city of Banias who escaped to Lebanon last week. "We don't want to go for the option of an armed struggle against the regime. But if the international community does not step in, we are afraid that it will lead to civil war."
The crackdown by the Syrian security forces has left around 2,200 dead, according to the United Nations, but neither side is showing any sign of yielding.
Instead of crushing the uprising in its early stages, the use of military force only galvanized opposition to Assad's rule and exacerbated sectarian relations between the Sunnis, who make up around 75 percent of the population, and the minority Alawites, who form the backbone of the regime.
---