Hana Qaddafi: dictator's daughter survived Reagan's bombs?
Hana Qaddafi, we were told, was killed by US airstrikes in 1986 when she was a baby. Evidence now suggests that Muammar Qaddafi lied keeping his daughter under wraps for 25 years.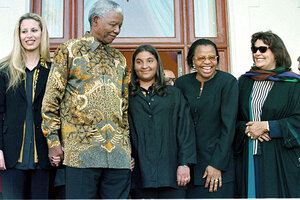 Obed Zilwa/AP/File
The story began in 1986, after the Libyan-backed bombing of a nightclub in West Berlin. The attacks were aimed at US servicemen, and ended up killing two and injuring dozens.
President Ronald Reagan's action was swift and precise. He ordered missile attacks on the home of Libya's leader, Muammar Qaddafi.
Muammar Qaddafi survived, but claimed the attacks killed his adopted baby daughter, Hana.
For 25 years, Qaddafi has continually reminded supporters of his daughter's murder and even left the building in ruins as a reminder - and occasionally a backdrop for anti-US speeches. Every chance he could get he would insist that he was a "victim of western military aggression."
The fact that Hana Qaddafi had been killed in the bombing was presented as historical record by the media.
But as rebels stormed one of the Qaddafi family's homes they discovered a room that seemed to belong to Hana. The room contained Hana's birth certificate, photos of a girl with the name "Hana" inscribed in Arabic on the back, as well as a medical exam paper signed "Hana Muammar Qaddafi" in Arabic and medical books belonging to "Dr. Hana Qaddafi."
---