Mercy at Qaddafi's notorious Abu Salim prison
Abu Salim prison, Muammar Qaddafi's most notorious dungeon for political opponents, was the brutal center of his efforts to retain power in Libya. One man helped dozens of prisoners escape.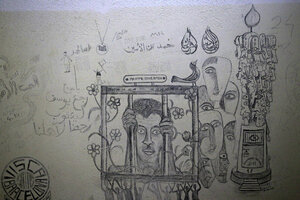 Sergey Ponomarev/AP/File
Juma Mukhtar Sayeh never chose a career in Col. Muammar Gaddafi's military intelligence service. It was chosen for him.
"When I finished high school in 1983 I tried to enroll in college and the only one that would take me was the military academy," he says. After graduation he found that his name was already on a list of people selected by the regime for the military intelligence service.
"I thought of quitting many times during my career but I always felt that I could do more good by staying where I was than by leaving," he says at his Tripoli home.
Hundreds of people at Libya's notorious Abu Salim prison are grateful that he stayed. They say they might not be here if he hadn't. The facility for political prisoners was the site of a 1996 massacre of more than 1,200 inmates and a powerful symbol of state repression that drove Libya's revolutionaries.
Since the prison was overrun and its inmates freed, tales of torture and desperation have poured out.
When Mohammed Orafi and Mohammed Zayani ended up in Abu Salim, the last thing they'd expected was to make a friend among their interrogators.
Mr. Zayani had been making a nitrate bomb to use against Qaddafi's troops in his neighborhood of Tajoura, an anti-Qaddafi hotbed, when he was arrested.
---