Libyan teachers get ready for education overhaul
Teachers at Nemuthajia Elementary School in Benghazi, Libya, will return Sept. 17 for the first day of classes in a new Libya. It will be the first time in 42 years they can teach the truth, they say.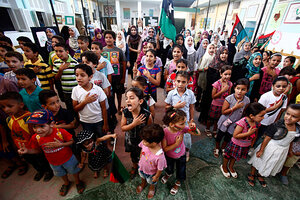 Zohra Bensemra/Reuters
At a small elementary school here in Libya's second-largest city, dozens of teachers are preparing for the first day of classes since the fighting started in February and abruptly forced all schools to close.
They gather in sunny but spare classrooms surrounding a bare courtyard with peach walls. According to a sign above the entrance, this is Maarakat El Karama Elementary School. But the teachers shake their heads at mention of the name. It was bestowed on the school after the 1969 coup led by Muammar Qaddafi, who became Libya's leader for the next 42 years before being ousted by this year's revolution. The teachers have decided to return to the original name of the school, El Nemuthajia. It means "exemplary."
But the school's name isn't the only thing that will change when students come back on Sept. 17. "Next week, for the first time in 40 years, the teachers will begin teaching the truth," says Zakia Abdel Nabi, an elderly Arabic language teacher.
Getting rid of Qaddafi propaganda that fills the textbooks is just one of the tasks ahead as Libya faces the enormous challenge – and opportunity – of rebuilding an education system that was systematically eroded for four decades. Libya's new leaders must also work to transform a system that sought to instill the regime's ideology in unquestioning students into one that encourages dissenting opinions, critical thinking, and dialogue. Doing so, say education experts, will be key to building a strong and democratic Libya.
"If education doesn't change, nothing else will change," says Hana El Gallal, a law professor at Benghazi University and rights activist. "This is for me the biggest challenge and the biggest fight ahead."
---