Cairo Israeli embassy attack: New realities for Israel-Egypt relations
Friday's attack on Israel's embassy in Cairo serves as a reminder that the bilateral relationship has changed for good since former President Hosni Mubarak was ousted months ago.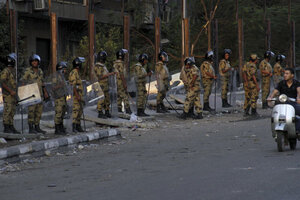 Ahmed Ali/AP
Israel's ambassador and all but one of its diplomatic staff were evacuated from Egypt after a protest Friday at the Israeli embassy in Egypt turned violent, underscoring the new reality for Israel-Egypt relations after the Egyptian uprising.
Both nations said this weekend that they remained committed to the Camp David peace treaty and Egyptian authorities issued harsh statements vowing to punish those behind the violence. But the protest and its aftermath serves as a reminder that the relationship has changed for good with the Egyptian uprising that swept from power Israel's longtime ally, Egyptian President Hosni Mubarak.
"Mubarak took away our dignity, and now the military council is following the same path," says Ahmed, a protester who asked that his last name not be used. He was speaking of the Supreme Council of the Armed Forces (SCAF) that is ruling Egypt until new elections. "We won't allow Israel to humiliate us any longer, and now we have the power to change this ourselves," he says.
Few expect Egypt to back away from its agreements with Israel. But Egypt's neighbor must be prepared for a profound shift. With parliamentary elections scheduled for this fall, presidential elections early next year, and popular anger with Israel running high, criticism of Egypt's neighbor is likely to be a popular campaign issue. And a representative government will be much more sensitive to public sentiment than Mubarak was.
The protest, in which three people were killed by Egyptian security forces and 1,049 were wounded, reflected pent-up anger over Israel's killing of six Egyptian border guards last month while pursuing gunmen who launched a cross-border attack that killed eight Israelis. The killing of the Egyptian border guards, and the Egyptian government's refusal to recall its ambassador to Israel, enraged many Egyptians who want a change from Mubarak's 30-year policy of cooperating with Israel.
---