Loyalists repel anti-Qaddafi forces' push on stronghold of Bani Walid
The fight for Bani Walid – a stronghold of former leader Muammar Qaddafi – is a critical step in the complete 'liberation' of Libya from Qaddafi's rule.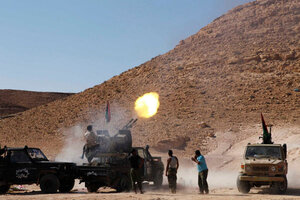 Youssef Boudlal/Reuters
Fighter Mohammed Omran got a taste of the strong defenses of Bani Walid when his squad of seven probed one of the last loyalist strongholds of Muammar Qaddafi.
Pro-Qaddafi snipers were hiding inside houses at dusk on Friday night. Once they began shooting, the volunteer irregulars were hit with a constant wall of fire: They were pinned down by 14.5mm anti-aircraft guns; then by a barrage of small missiles; then the .50 caliber heavy machine gun, all of them used and reloaded in rapid succession, again and again.
The stalled fight for Bani Walid, which on Sunday awaited only reinforcements and orders from Libya's new authorities to launch a new offensive, is a critical step – along with the surrender of two other important loyalist strongholds – before Libya is officially declared "liberated." Then the clock is to start ticking on a timeline to write a new constitution and hold elections.
"I cannot count so many blasts," recalled Mr. Omran, a four-month veteran of Libya's revolutionary forces, who once sold women's clothing in Tripoli. His unit was pinned down until dark; a mortar shell struck a rock nearby, and a shard of stone injured his right heel.
But before Omran's squad made its getaway, under darkness and despite continued shooting, he says he and his comrades had surrounded and captured five pro-Qaddafi soldiers. They told them to drop their weapons, but "from the beginning they did not stop," says Omran. "Only when they ran out of bullets did they stop shooting."
One Qaddafi soldier threw a grenade and tried to run away. They shot him dead immediately.
"They were more than scared," says Omran of the prisoners. One claimed to be a shepherd; another said he was "with" the rebels from the start. "They expected to be killed. One begged: 'Don't cut me, just shoot me.' "
---