Why some Egyptians see military rulers as worse than Mubarak
Egypt's military rulers this weekend broadened the use of the country's emergency law, a despised tool of Mubarak's regime, instead of lifting as they had promised to do.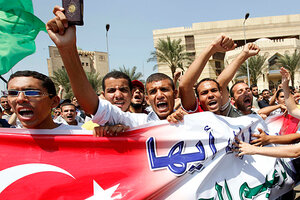 Mohamed Abd El-Ghany/Reuters
Egypt's interim military rulers are increasingly repressing civil rights, sparking an outcry from Egyptians who say that the generals who promised to lead a transition to democracy have instead become even more restrictive than former President Hosni Mubarak.
After hundreds of protesters attacked the Israeli embassy in Cairo on Friday night, the government broadened the country's emergency law to allow the Ministry of Interior to indefinitely detain or send to military court citizens who engaged in strikes, "thuggery," or "deliberately publishing false news, statements, or rumors."
"This is classic Mubarak-think: The knee-jerk reaction to deal with any security problem is to give more powers to the Ministry of Interior," says Heba Morayef, a Cairo-based researcher for Human Rights Watch.
The repeal of the law, which Mr. Mubarak used as a blunt instrument of repression throughout his 30-year rule, had been a key demand of the revolution, and the military council had promised in March that it would lift the law by this month.
On Sunday, police operating under the auspices of the Ministry of the Interior raided the offices of satellite TV network Al Jazeera, further raising fears of a crackdown on media and expression.
---