Libya's interim leaders confront tough task: disarming militias
The ability of transitional leaders to rein in the scores of militias that helped oust Muammar Qaddafi will signal how capable they are of governing the new Libya.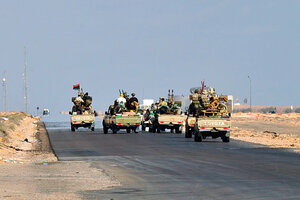 Esam Al-Fetori/Reuters
As Libyan fighters battle the last remnants of Muammar Qaddafi's regime, Libya's new transitional leaders are already confronting one of the major challenges that will come next: disarming the scores of militias that fought the war.
Once the fighting is over, disbanding the militias will be key to ensuring independent armed groups do not become a destabilizing force in the new Libya. The ability of the National Transitional Council (NTC) over the next few weeks to rein in militias will be an indicator of whether it is up to the task of governing all of Libya or not.
"You need to have people feel safe and secure. You can't have independent military organizations roaming the country," says Zahi Mogherbi, political science professor at Garyounis University in Benghazi. "The NTC's performance in this regard will solidify their legitimacy. And I think the legitimacy of the NTC will now be based on its performance."
Already, the NTC is running into trouble, as divisions deepen between rebel leaders. The rebel military commander in Tripoli was stridently displeased with acting Prime Minister Mahmoud Jibril's plan, outlined Sunday, to bring the militias fully under civilian control – either by sending members back to their civilian jobs or incorporating them into the army or police force.
Militiamen eager to go back to families, jobs
---