Why many Syrians still support Assad
The Arab League yesterday called on Syria's Assad to stop his 'killing machine' as the uprising enters its seventh month. But Assad, still backed by key groups, is unlikely to bow to such calls.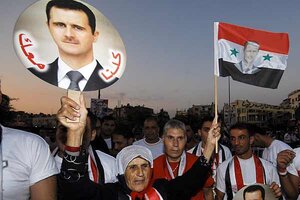 Muzaffar Salman/AP
Syrian President Bashar al-Assad came under fresh fire yesterday from the Arab League, which called for an immediate end to what one official referred to as the regime's "killing machine" deployed against antiregime protesters.
But despite deepening international isolation, Mr. Assad's supporters at home are likely to wield significantly more influence over his course going forward.
To be sure, Assad – once widely liked and seen by Syrians as a reformer – has seen his support base rapidly diminish after a brutal campaign against the uprising, now entering its seventh month. More than 2,600 civilians have been killed since March, according to the United Nations, as well as several hundred soldiers.
But Assad remains in control – thanks in part to a range of Syrians who still haven't turned against him, from businessmen dependent on the regime to minority Christians worried about the rise of Islamist powers should Assad fall. That support provides a bulwark for the regime against outside pressure, making it unlikely to bow to threats from the Arab League or other international actors – potentially to the regime's own detriment.
"This makes it harder to make the regime understand that they need to move towards an exit strategy," says Steven Heydemann, author of "Authoritarianism in Syria." "The continued support of the officials keeps it strong while the shows of support of ordinary Syrians stops the regime from realizing how serious the crisis is."
Businessmen bet on regime's survival
Support for Assad is especially strong in Syria's two largest cities, Damascus and Aleppo, where residents are wealthier and have been shielded from the worst of the crackdown.
---
Follow Stories Like This
Get the Monitor stories you care about delivered to your inbox.