Tensions over Palestinian UN bid spur new patrols in West Bank
Palestinian, Israeli, and foreign activists have launched a neighborhood patrol project to protect Palestinians from Israeli settler violence, rising amid tensions related to the Palestinian UN bid for statehood.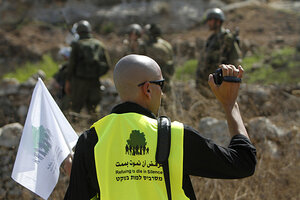 Mohamad Torokman/Reuters
As Palestinian Authority President Mahmoud Abbas defends his bid for statehood at the United Nations, his people are defending their land.
Amid rising tensions between Palestinians and Israeli settlers in the West Bank, who both lay claim to the land, a coalition of local and foreign activists have begun setting up neighborhood watch patrols to monitor key flashpoints. The project highlights a newfound Palestinian boldness on the ground that mirrors Mr. Abbas's determination at the UN – despite American pressure.
"Palestinians have been left with no choice. The Israeli army isn't doing enough to protect them from the increase in [settler] attacks," says Jonathan Pollack, an Israeli activist and spokesperson for the Popular Struggle Coordination Committee. "It forces Palestinians to organize."
The neighborhood patrol project is part of a new initiative launched by the committee, which is comprised of Palestinian, Israeli, and foreign activists working for the rights of Palestinians. The new patrols not only aim to protect Palestinians but also document attacks and property damage by settlers.
Documenting violence
---