Palestinian statehood bid brings Abbas a personal victory
Mahmoud Abbas's statehood bid at the United Nations earned him jubilant praise from Palestinians in the West Bank, although Hamas opposition to the bid kept Gaza mostly silent.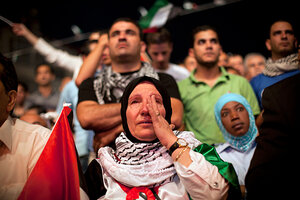 Bernat Armangue/AP
Ramallah, West Bank; and Gaza City, Gaza
Thousands of Palestinians gathered in central Ramallah Friday night to hear Palestinian Authority President Mahmoud Abbas speak to the United Nations and formally announce the bid for UN statehood membership.
Mr. Abbas' fulfillment of his promise to launch the UN bid garnered the leader – often criticized as uncompelling and being too willing to concede to Israel – newfound popularity among Palestinians.
"Now, I support him. For the last years I have opposed his polices," says Omar Saleh, standing with his mother in a sea of Palestinian flags. "He has given the Israelis too many chances and not given any hope to the Palestinians."
Abbas has led the Palestinian Authority since January 2005 and has struggled to step outside the shadow of his iconic, charismatic predecessor, Yasser Arafat. Abbas has always had a core of supporters from his leading Fatah movement, but many Palestinians saw him as weak and too cooperative with Israel and the United States. Earlier this year, documents related to the peace process were leaked that showed Palestinian negotiators under his leadership offering Israel compromises that many Palestinians were unwilling to accept.
---