Egyptian blogger's hunger strike turns critical; hearing delayed
The Egyptian military has postponed by three weeks an appeal hearing for blogger Maikel Nabil Sanad, whose case symbolizes the lack of freedom of expression in Egypt today.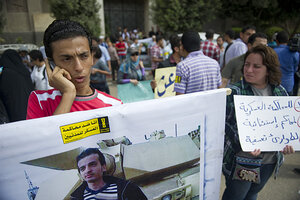 Ann Hermes/Staff
Egypt's military prosecution today postponed the appeal hearing of Maikel Nabil Sanad, an imprisoned blogger convicted of criticizing the military. His brother Mark said the three-week delay amounted to a death sentence, since Maikel – now 43 days into a hunger strike – has vowed to abstain from water as well as food beginning today.
"By postponing the case until Oct. 11, they are killing him," said Mark, speaking outside the military prosecution headquarters today. He said the prosecution postponed the case because his brother's file was not placed before the judge as it should have been – a reason Mark called "silly and stupid."
For rights activists, the blogger's case has become a symbol of the crackdown on freedom of expression carried out by Egypt's military rulers, who promised to guide Egypt to democracy but have instead continued the repressive policies of former President Hosni Mubarak. But the lack of public support he has received is also a sobering warning for Egypt's future.
While other Egyptians arrested for their tweets or blog posts have garnered waves of public support that likely encouraged their release, only a couple dozen protesters were present outside the military prosecution Tuesday to support Mr. Sanad. Activists say many have refused to fight for Sanad because of his unorthodox views – he is an atheist and has a more favorable stance toward Israel than most Egyptians.
---