Hamas popularity hits a new low after opposing UN statehood bid
The UN statehood bid, led by Hamas rival Mahmoud Abbas, has deepened the rift between Gazans and their Islamist rulers.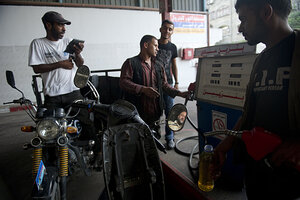 Ann Hermes/Staff
Of the many complaints in Gaza, one has become a popular refrain: the increasing taxes levied by Hamas. Fathi Abu Gamar, a gas station owner in Jabaliya refugee camp, readily joins the chorus: The Islamist movement that rules this tiny coastal territory takes more than half his revenue from gas sales, he says, leaving him with a tiny profit.
But he quickly becomes quiet when a man, whom neighbors identify as a Hamas informer, begins hovering nearby, listening intently. Above him, the green flags of Hamas flutter in the strong sea breeze. Like Hamas's popularity, they are faded and tattered.
Hamas has been steadily losing support among Gaza's 1.6 million residents after winning elections in 2006 and violently ousting its secular rival, Fatah, the following year.
Now, however, its popularity has fallen to a new low due because of its opposition to a bid for Palestinian statehood at the United Nations – a move spearheaded by Fatah leader and Hamas rival Mahmoud Abbas – or Abu Mazen, as he's known here.
"Hamas is against Abu Mazen," says Yasmine Al Nabeeh, a young Gazan woman who supports the statehood bid now under consideration by the United Nations Security Council. "So any step he takes, they are against it, even if it's for the benefit of Palestine."
---