Gilad Shalit release: Why Israel and Hamas agreed to a prisoner swap
Gilad Shalit, a young Israeli soldier captured more than five years ago, is due to be released along with some 1,000 Palestinian prisoners under a deal announced today.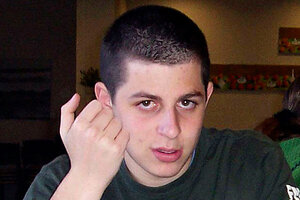 Reuters/Handout/Files
Prime Minister Benjamin Netanyahu announced tonight that Israel and Hamas have agreed to an historic prisoner swap deal that will release Sgt. Gilad Shalit, who has been held for five years in the Gaza Strip, in return for some 1,000 Palestinian prisoners.
After thanking the Egyptian government for mediating the deal, Mr. Netanyahu said that if everything goes according to plan, Mr. Shalit would return home in the coming days.
"Today I am bringing the cabinet a proposal that will bring Gilad home healthy and in one piece," he said.
The diplomatic breakthrough gives a much needed boost to Hamas, Egypt, and Mr. Netanyahu, all of whom have been struggling of late amid the regional changes prompted by the so-called Arab Spring.
How the deal helps Israel, Hamas
The Israeli prime minister is likely to get a boost in popular support for releasing a soldier who has become a nationwide celebrity since being kidnapped from the Gaza border in June 2006. In addition, he was likely keen to boost ties with Cairo by collaborating on the prisoner deal, analysts say. Relations had grown chilly after a terrorist attack on the Israel-Egyptian border in August, and the storming of Israel's embassy in Cairo by a mob of Egyptians.
---