Gilad Shalit prisoner swap: Why Netanyahu agreed to 1,000 Palestinians for one Israeli
Israeli Prime Minister Benjamin Netanyahu was opposed in principle to the Gilad Shalit prisoner swap. But his willingness to make an unsavory deal in the end highlights his pragmatism.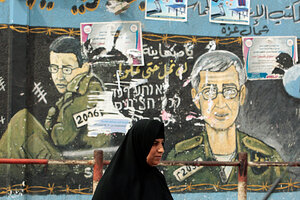 Ismail Zaydah/Reuters
Prime Minister Benjamin Netanyahu's deal with Hamas to swap 1,000 Palestinian prisoners to free Sgt. Gilad Shalit from imprisonment in Gaza highlights the Israeli leader's frequently overlooked pragmatism.
Even amid images of Hamas' victory celebrations in Gaza and the risk of releasing militants serving terms for terrorist attacks, the Israeli leader broke with his no-compromise approach to terrorism by siding with Israeli public sentiment that is overwhelmingly sympathetic with Shalit's plight.
"There's no avoiding the dissonance. This is a violation of principles that he laid out and helped establish him as a public figure: You don't surrender to terrorist blackmail," says Yossi Klein Halevy, a fellow at the Shalom Hartman Institute in Jerusalem. "Netanyahu has deeply held principles, but in the end he is a pragmatist. And he has proven that again and again even though the world doesn't give him credit for it."
As the Israeli media hailed the news of Shalit's release, the head of the Shin Bet security agency, Yoram Cohen, told journalists that although the deal could encourage new attacks and strengthen Hamas at the expense of moderates, it was the minimum price Israel could expect to pay to bring Shalit home.
---