Oman's elections bring hopes, doubts of institutional change
Sultan Qaboos bin Said promised to bestow new powers on the nation's assembly to tamp down Arab Spring protests, but ahead of Oman's elections tomorrow, those powers remain undefined.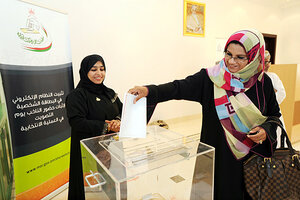 Sultan Al Hasani/Reuters
Seven months after Omanis took to the streets amid a wave of Arab protests, they will be voting Oct. 15 in elections for the nation's majlis al-shura assembly. But many don't see the election as a vehicle to bring the change they were seeking, either because of distrust of the candidates or skepticism about the assembly's ability to wield influence in a system dominated by Sultan Qaboos bin Said.
"I think it has a 50-50 percent chance to bring change," says Mohammed Abdullah Said, a businessman from the capital Muscat. "There is hope. But most [economic and political] development comes from the government and His Majesty. He has more knowledge."
In March, as popular protests were sending tremors through neighboring Bahrain and Yemen and Omanis had taken to the streets in rare protests, Sultan bin Said announced that he would grant the majlis al-shura (literally, consultative council) additional authority as part of a package of measures designed to placate the demands of demonstrators.
"These moves were aimed at calming the situation. They wanted to prevent bigger protests [from developing]," says Salim Mohammed Al-Khadory, a social policy specialist at Oman's Sultan Qaboos University.
With the help of an aid package from the Gulf Cooperation Council, the sultan was largely successful in tamping down the demonstrations. But the new powers promised for the majlis are as yet unknown, though a spokesman says that the newly elected assembly will be given those powers.
---