Israelis petition Supreme Court to stop Gilad Shalit deal
With Gilad Shalit's scheduled release only a day away, Israelis who fear the consequences of releasing the prisoners are making a final push to derail the deal by petitioning the Supreme Court.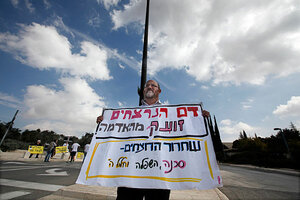 Eric Gaillard/Reuters
Just a day before a prisoner swap is to take place between Israel and Hamas, Israel's Supreme Court heard 11th-hour petitions against the deal, which has reignited an emotional debate pitting the desire to free kidnapped soldier Sgt. Gilad Shalit against the fear of victims of terrorist attacks, who want perpetrators to remain locked up.
Opinion polls indicate that an overwhelming majority of Israelis support releasing 1,027 Palestinian prisoners in exchange for Mr. Shalit's freedom. But the move is reopening psychological wounds from attacks that killed dozens of Israelis in the past two decades. If freeing the prisoners is followed by a resurgence of terrorism, as some opponents expect, Israeli Prime Minister Benjamin Netanyahu could see a rapid dissolution of the wave of widespread public support he is riding.
Israeli supporters and naysayers alike showed up at the courthouse on Monday while the justices heard arguments. As Shalit's father, Noam, arrived to make a case for the release, a supporter shouted, "The people are with you!" A relative of an attack victim shot back, "Who says you speak for the people?"
The court was expected to reject the petition to shelve the deal, paving the way for Tuesday's intricate swap. Israel will release 27 Palestinian female prisoners once it receives confirmation that Shalit is alive, and another 450 prisoners after Shalit is released to the Red Cross, which will bring him to Egypt. Some 40 Palestinians will be deported abroad. The remainder are expected to be released in about two months.
---