Gilad Shalit deal boosts Hamas in West Bank as Fatah clings to support
Palestinian prisoners released in the Gilad Shalit deal were welcomed home in Ramallah amid an unusual display of support for Hamas.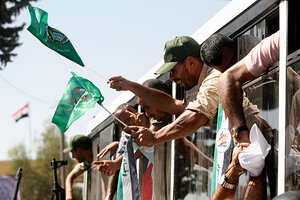 Eyad Baba/AP
Thousands of Palestinians gathered in Ramallah today to welcome home about 100 prisoners returning to the area.
The crowds inside and outside the Muqata compound, former President Yasser Arafat's headquarters, blurred into a sea of flags and pictures of Palestinian prisoners on the cusp of release.
"I'm happy, and I'm not happy. I am happy to be free, but there are still girls in there," said 26-year-old Fatin Bassam Al-Sa'di, one of 27 women set free today, as she hugged family members crowding around her inside the compound. "Our hope lays in the next deal for the rest of the women to be free."
Hamas's negotiation of a deal that freed 1,027 Palestinian prisoners in exchange for Israeli soldier Gilad Shalit, kidnapped by Hamas in 2006, has won the group points in the West Bank, where it is locked in a continuous struggle for dominance against Fatah, which controls the Palestinian Authority and the West Bank.
Fatah scored a victory last month when Palestinian Authority President Mahmoud Abbas, a Fatah member, defied Israeli and American wishes and presented a bid for Palestinian membership to the United Nations.
---