With Gilad Shalit prisoner exchange finished, attention turns to security
With many of the Palestinians released in the prisoner exchange for Gilad Shalit going to the West Bank, focus will now be on ensuring that Israeli-Palestinian violence stays at its current low level.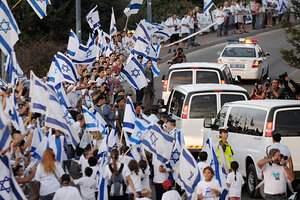 Moran Maayan/AP
The unprecedented prisoner exchange today between Israel and Hamas will shift attention in the coming months to undermining the possibility of an upsurge in violence in the West Bank, where hundreds of Palestinian prisoners returned today after being released in return for Gilad Shalit.
After years of refusing a mass release of 1,000 prisoners, Prime Minister Benjamin Netanyahu last week decided to pay what he called a "heavy" price for the Israeli soldier, who has been in Hamas captivity in Gaza since being kidnapped in June 2006. A decline in violence between Israelis and Palestinians, both in in the West Bank and Israel, brought the risk down to a level that Mr. Netanyahu considered acceptable.
Analysts attribute the decline to a mix of factors: the construction of a barrier separating Israel and the West Bank, improved intelligence on Palestinian militants, and, perhaps most significantly, closer cooperation between the Israeli Defense Forces and the Palestinian Authority's security forces and police, which oppose a violent uprising and see Hamas as an enemy.
---