Turkey warns 'other powers' it sees behind deadly PKK attack
Militants loyal to the Kurdish Workers Party (PKK) launched attacks on Turkish soldiers and police Wednesday, killing at least 24. Turkish forces responded by launching raids and airstrikes against the group in northern Iraq.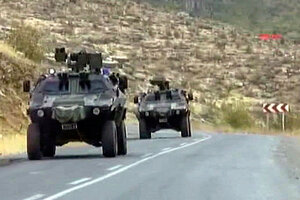 DHA via APTN/AP
Kurdish militants launched their most deadly attacks in years on Turkish soldiers and police on Wednesday, killing at least 24 and prompting cross border raids into northern Iraq and airstrikes by Turkish forces.
The attacks by the Kurdish Workers Party, or PKK, and the robust response by the Turkish government, risk wider resumption of a conflict that has left 40,000 dead since 1984, but been quieter since political efforts to provide greater Kurdish rights commenced in 2009.
Turkish Prime Minister Recep Tayyip Erdogan vowed: "We will never bow to any attack from inside or outside Turkey."
The Wednesday attacks came after a roadside bomb on Tuesday that killed five Turkish soldiers and three civilians – among them a four-year-old girl. The PKK is considered a terrorist group by the United States and the European Union.
"Whoever supports terror, feeds it and helps it; whoever tolerates it and ignores its inhumane attacks, tries to cover the bloody face of terror," said Erdogan. "I want to let them all know that Turkey is breathing down their necks all the time."
The Turkish leader reached further, too, blaming unnamed local actors for trying to end Turkey's rise as a regional power. The latest attack, Erdogan said, showed that "terror is a tool in the hands of certain powers. The PKK are subcontractors used by other forces and other powers, trying to provoke Turkish society."
---