On liberation day, Libyans flock to see Qaddafi – for proof, closure
Libyans officially celebrated the liberation of the country from the rule of Muammar Qaddafi today, just days after he was killed after fleeing his hometown of Sirte.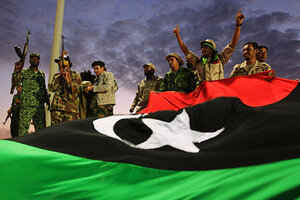 Esam Al-Fetori/Reuters
Widad El Weila came all the way from Libya's capital, Tripoli – a two-and-a-half-hour drive – with her teenage daughters to see the body of former Libyan dictator Muammar Qaddafi.
"We wanted to see it with our own eyes," she says, "and we brought the kids to show them that there is nothing more to be afraid of."
Ms. El Weila was one of only a few women standing in line in the dilapidated outdoor shopping mall on the outskirts of the coastal city of Misrata where Qaddafi's body – and that of his son Moatassim and his former defense minister Abu Bakr Younes – have been put on public display since they were killed Thursday.
"I told [the rebel fighters] to … make sure that everybody knows [Qaddafi] is dead," interim Oil Minister Ali Tarhouni told the Reuters news agency.
The display – under flimsy blankets on a stone-cold floor in a commercial freezer – hasn't seemed to bother the hundreds of Libyan men lining up for a last glimpse at the man who ruled them for 42 years.
Nor has it seemed to bother the vast majority of Libyans who are celebrating the country's liberation, which was officially rung in today by the transitional government's leader, Mustafa Abdel-Jalil, at a euphoric rally in the eastern city of Benghazi.
"We have all waited for this moment," said Mr. Abdel-Jalil, the chairman of the National Transitional Council (NTC), in front of the mass of flag-waving revelers. "This revolution began peacefully with the demand for justice, but it was met by excessive violence."
Will Qaddafi get a proper burial?
---