Surprise recall of US ambassador to Syria spurred by threats
The US recalled Ambassador to Syria Robert Ford, who has been a sharp critic of the Assad regime. His departure comes amid intensifying scrutiny of the country's brutal crackdown on protesters.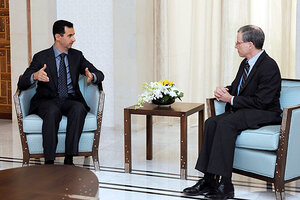 SANA/AP/File
Robert Ford, the US ambassador to Damascus who has been a prominent and vocal critic of the Syrian regime's harsh crackdown on opposition demonstrators, has been recalled to Washington after receiving "credible threats" to his safety, the State Department announced Monday.
His surprise recall comes as international attention is intensifying on Syria, which has emerged as the focal point of the Arab Spring revolutions following the death of Libyan leader Col. Muammar Qaddafi and the end of the NATO mission to support Libyan rebels.
Mark Toner, a spokesman at the State Department, said that Mr. Ford had been withdrawn from Damascus after "credible threats against his personal safety." Diplomatic sources say that the threats appeared to have been incitement against Ford in the Syrian press, most of which is tightly controlled by the state.
Mr. Toner said that it was not possible to determine when Ford might return to Damascus, saying it depended on an "assessment of Syrian regime-led incitement and the security situation on the ground."
Ford, who returned to Washington over the weekend, has proved a constant irritant to the Assad regime for his outspoken views on the seven-month uprising and his contacts with members of the Syrian opposition.
Last month, he was pelted with tomatoes and stones by pro-regime supporters after emerging from a meeting with a leading Syrian opposition figure in Damascus. In July, he infuriated the Syrian authorities when he and the French ambassador visited the city of Hama, then under siege by Syrian security forces.
He struck back at his critics by posting notes on the US Embassy's Facebook page. In a posting in September, he rejected accusations by the Syrian authorities that the US was inciting "terrorism" in Syria and arming the opposition. Instead, he blamed the Assad regime for perpetrating the worst of the violence.
"And given the extent of the government's brutality, neither the Syrian protest movement nor the international community will believe that this Syrian leadership desires or is capable of the deep genuine and credible reforms that the Syrian people demand," Ford wrote.
---