In Qaddafi's hometown, signs of trouble for Libya
Signs of looting and a massacre by Libya's victorious revolutionaries in Muammar Qaddafi's hometown of Sirte have some on edge.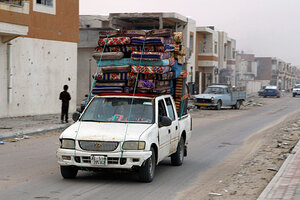 Youssef Boudlal/Reuters
The flatbed trucks are the first sign of trouble. They are empty going from Misrata to Sirte; in the opposite direction they are loaded with cars, stacked sideways to fit as many as possible.
The next sign is a bit more blunt. At Sirte's Mahari beach hotel civilian volunteers are removing dozens of bodies from the lawn close to the beach.
There were at least eighty of them, says Faraj al-Hamali, who worked at the Mahari's restaurant. On Sunday, Human Rights Watch counted 53. On Monday, the last of the bodies were being removed to a nearby cemetery.
"They were executed by the rebels from Misrata," says Mr. Hamali. "These rebels are worse then Qaddafi."
According to Peter Bouckaert, emergencies director at Human Rights Watch, "it is by far the largest single killing allegedly perpetrated by the Libyan rebels."
Who the victims were is not so easily determined. They appear to have been killed three to four days ago, around the time that Muammar Qaddafi was captured and killed as he tried to escape from Sirte.
Hamali says many of them were civilians from Sirte. Other Sirte residents identified four of the victims to Human Rights Watch as Ezzidin al-Hinsheri, allegedly a former Qaddafi government official, a military officer named Muftah Dabroun, and two Sirte residents, Amar Mahmoud Saleh and Muftah al-Deley. Journalists in Sirte when it fell on Thursday saw former rebels pulling apparently unarmed people our of houses.

Who shot them?
What seems beyond doubt is that they were executed. The bodies were all lined up on the hotel lawn and there are no signs of a gun battle other than the spent cartridges from AK-47 and FN-1 rifles.
---