Secularists voice dismay at election gains for Tunisia's Islamist party
Tunisia's election results are not final, but the moderate Islamist party Al Nahda seems poised to get a plurality of the vote. Some secularists voiced alarm, even as the party sought to reassure opponents.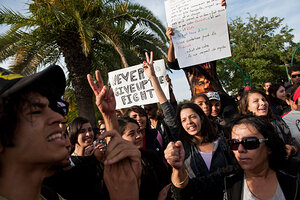 Benjamin Girette/AP
Tensions flared momentarily in Tunis on Tuesday as citizens awaited the official announcement of electoral results in the country's first democratic elections. Hundreds of secular-leaning voters, fearing they had suffered a resounding defeat at the hands of the moderate Islamist party, Al Nahda, gathered in front of the electoral commission office, carrying signs decrying what they believed to be fraud.
"There are a lot of people who are disappointed by the result," says Moez Ali, a founder of the Union of Independent Tunisians for Liberty, a civil society organization that grew out of the Jan. 14 revolution. "We were expecting [Al Nahda to win] – but not by so much."
Tunisia's independent electoral commission was expected to conclude its vote count by midday Tuesday, announcing which parties and candidates will populate a new constituent assembly meant to draft a new constitution and appoint a caretaker government. However, the commission only released results from five of 33 electoral districts, citing a need for more time because of technical problems. As the sun went down on Tuesday, it was unclear when the full results would be released.
The delay and preliminary estimates have stirred up speculation that Al Nahda, the moderate Islamist party that has dominated the electoral campaign, will capture far more than the 30 percent of the seats expected. Sayid Ferjani, a member of the party's political committee, told The Christian Science Monitor late Monday that Al Nahda believed it had won a majority based on its own parallel count.
Secularists are confused, upset
Among secularists, there is angry confusion about why they performed so poorly in comparison. The Congrès pour la Republique (CPR) and Ettakatol, two left-leaning secular parties, are expected to have the next most votes after Al Nahda, but the once-dominant Party for Democratic Progress and the smaller Modern Democratic Pole have gathered few seats in the few districts released so far.
---