Can Islamists share power with secularists? Tunisia is about to find out.
Two secular parties look set to join Tunisia's dominant Islamist Al Nahda party in an alliance that would collectively represent as much as 60 percent of the vote in Sunday's election.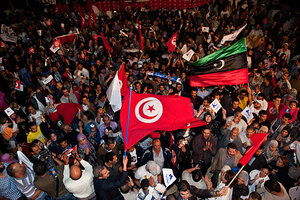 Benjamin Girette/AP
With full results of Tunisia's first-ever democratic election expected as soon as tomorrow, two secular parties looked poised to join the Islamist Al Nahda party in an alliance that could guide the country's political transition with a decisive majority.
The alliance of the Islamist party with center-left parties Congrès pour le République (CPR) and Ettekatol would represent approximately 60 percent of the vote, according to individual party estimates.
With a clear majority and a diverse range of views, the coalition could bring considerable legitimacy to the two chief tasks of Tunisia's post-revolution government: drafting a new constitution and nominating a caretaker administration.
Should the coalition come to fruition, it would represent a victory for both the Islamists and the secular-leaning parties, as each would have a decisive voice in the drafting of Tunisia's next steps. Throughout the campaign, Tunisians on both the Islamist and secular sides of the country's political spectrum have feared that their opponents would dominate, with potentially paradigm-shifting consequences for Tunisia's national character. A coalition may temper those fears; under one umbrella, compromise between these groups will be of paramount importance.
"Our priority is to build a democratic state that is irreversible," affirms Sayid Ferjani, a member of Al Nahda's political committee, reiterating calls by the party for the last week for consensus.
Secular groups decline to form opposition bloc
Congrès pour le République (CPR) and Ettekatol say they will each claim roughly 15 percent of the vote, while Al Nahda (also spelled Ennahda) says it has more than 30 percent of the vote.
---