Palestinian statehood bid adds urgency for Israeli-Palestinian peace
Quartet envoy Tony Blair held talks today to prod Israelis and Palestinians back to the negotiating table amid concern about a looming UN vote on Palestinian statehood.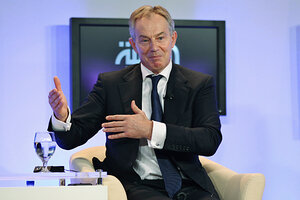 Muhammad Hamed/Reuters
Quartet envoy Tony Blair held talks in Jerusalem and Ramallah today to convince Israelis and Palestinians to resume negotiations, a mission given added urgency by a looming vote on Palestinian membership in the United Nations.
Amid widespread pessimism that the two sides aren't even interested in coming back to the table, the quartet of Middle East peace mediators – the US, Russia, the European Union, and the United Nations – fears that the Palestinian bid could further unravel the peace process and isolate Israel.
"The Quartet is panicked because there's going to be a vote soon," says Diana Bhuttu, a former Palestinian negotiator. "They want to make this [membership] application go away quietly and slip it under the radar... In the current situation, it's not going to go away."
Pressure on Abbas to drop UN bid
Mr. Blair, the former British prime minister, is trying to get the two sides to agree on a framework for peace talks. But the international community has so far failed to come up with a compelling incentive for Palestinian Authority President Mahmoud Abbas to abandon his much-touted bid for UN recognition and to drop his demands for a settlement freeze.
---