Egypt saves face in swap of alleged Israeli spy Ilan Grapel
A swap today of alleged Israeli spy Ilan Grapel for 25 Egyptian prisoners helps patch up relations between Israel and Egypt.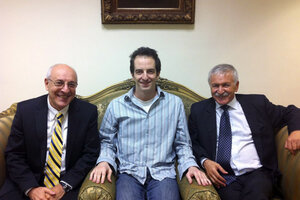 MK Israel Hasson Office/AP
An American-Israeli law student Egypt accused of spying for Israel is on his way home after the two nations arranged a prisoner exchange deal that will allow Egypt's military rulers to claim a victory at home while patching up relations with Israel.
The US and Israel have denied the espionage charges against Ilan Grapel, who was arrested in June. By most accounts, Mr. Grapel is a law student at Georgia's Emory University who came to Egypt to volunteer with a refugee resettlement group for the summer.
His Israeli citizenship and service in the IDF during Israel's 2006 war with Hezbollah made him a convenient target for Egypt's military leaders, who have sought to discredit Egyptian protesters by promoting the narrative that foreign powers are sending spies to Egypt to destabilize the country.
"[The military] arrested Grapel in order to send a message to the Egyptian public that Egypt is targeted by Western powers," says Emad Gad of the Al Ahram Center for Political and Strategic Studies. "After sending this message, they could get rid of the tool – Grapel. But they don't want to say, 'We fabricated the story,' …. so they have to reach the deal with the Israeli side."
---