Egypt's military rulers detain prominent activist. Is he a scapegoat?
Egypt's military rulers detained activist Alaa Abd El Fattah Sunday for allegedly inciting violence during a protest three weeks ago in which dozens were killed when the military violently attacked the crowd.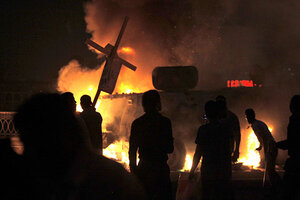 Nasser Nasser/AP/File
Egypt's military prosecution detained a prominent activist Sunday, underlining the growing repression by Egypt's military rulers as they increasingly restrict the freedom of expression and send civilians to military tribunals.
Alaa Abd El Fattah, a well-known activist and blogger, is accused of inciting violence during a protest three weeks ago where dozens were killed when the military violently attacked the crowd. The military appears to be using his prosecution – in a military tribunal – to find a scapegoat for the violence.
Mr. Abd El Fattah refused to answer the military prosecutor's questions because he rejects the legitimacy of trying civilians in military tribunals, and because the military is implicated in the crime, said his lawyer.
Another activist, Bahaa Saber, also remained silent, but was released, though he is still charged. The two join more than 12,000 civilians who have faced military tribunals in Egypt since the uprising that overthrew former President Hosni Mubarak began in January. Activists say the trials deny basic rights of the accused.
"This is not just about Bahaa Saber or Alaa Abd El Fattah," said Mr. Saber after he was released. "This is about all of the civilians who have faced military trials. We reject every one [of the trials]. Everyone is entitled to a trial in a civilian court."
Deadly clashes
Saber is charged with inciting violence against the Army on Oct. 9, when the Army attacked a crowd of thousands of people protesting the government's response to an attack on a church in southern Egypt. Abd El Fattah is charged with incitement, attacking the Army, and stealing a weapon from the military and using it. Both men deny all charges.
Videos taken during the protest show armored military vehicles driving into the crowd, running over protesters, and witnesses say the military shot into the crowd. More than two dozen people died, most crushed to death by vehicles or shot. The military generals ruling Egypt denied that soldiers purposefully ran over protesters or shot them, and blamed the violence on "hidden hands."
---
Follow Stories Like This
Get the Monitor stories you care about delivered to your inbox.