Egyptian revolution, Part 2: Now, to build a nation
Egypt must shift the passion of a revolution to the hard task of birthing a free nation. As national elections loom, the question persists: Will the military relinquish control?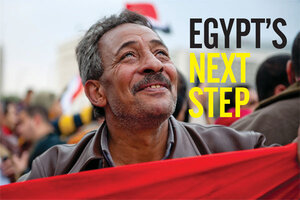 Ann Hermes photo
It's Thursday night and the Egyptian revolution has come to Minya al-Qamh, a small agricultural city on the Nile River Delta. Gay party lights crisscross a downtown street where local youths have quickly erected a colorful tent around a stage. One organizer cranks up the public-address system to warm up the crowd, chanting anti-Mubarak lyrics over the rap song "Gangsta's Paradise." "Hosni and Gamal Mubarak/ too much grief/ 30 years/ no relief."
The slow-arriving local burghers and workers pay little attention. They're waiting for the star of the show: Abdel Moneim Aboul Fotouh. Dr. Aboul Fotouh, a former Muslim Brotherhood leader who recently broke from the Islamist group, is one of the most prominent candidates to declare he's running for Egypt's presidency. He's the first national-level politician to visit this town 100 miles north of Cairo since Hosni Mubarak was toppled in February. Several hundred locals, as a result, have turned out to hear him.
Avuncular and energetic, Aboul Fotouh laces his speech with many of the bromides universal to almost any campaign: the need to improve education, the importance of available health care, a vow to stamp out corruption. But he also throws in a few tart comments, derisively referring to Mr. Mubarak's crippling rule of Egypt and calling for a tougher stance toward the "Zionist criminals" to the north.
Such rhetoric, even the presence of someone publicly vying for the presidency, would have likely ended in a beating or worse for Aboul Fotouh and his followers just two years ago. But today the tableau of him stumping on a stage stands as a sign of how tangible freedom is in the new Egypt – and in some ways a reminder of how fragile it remains, too.
Nine months after the fall of a Middle Eastern autocrat that transfixed the world, Egypt is transitioning from a revolution to the messy process of birthing a nation in a way that is unleashing new voices, new ideas, new parties – and old dangers.
---