Mystery surrounds deadly blast at Iran ammunition depot
Iranian authorities are downplaying Saturday's explosion, which killed 15 soldiers. They are ruling out sabotage or any connection to Iran's nuclear program.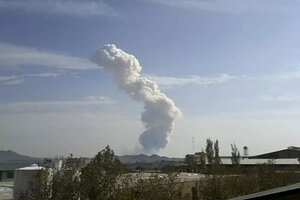 AP
Mystery surrounds yesterday's explosion at a Revolutionary Guard ammunition depot that was so large it was felt and heard almost 30 miles away in Tehran.
Even as funerals began on Sunday for the 15 soldiers killed, Iranian commanders sought to downplay any connection to Iran's advanced ballistic missile arsenal and its controversial nuclear program.
The explosion comes as Iran is locked in a tense standoff with the US, Israel, and the West over its nuclear program, which last week produced a surge of threats and counter-threats of military action over the release of a United Nations report that detailed what it called "credible" evidence of Iran's past work on nuclear weapons technologies.
The Fars News Agency, which is connected to the Islamic Revolutionary Guard Corps (IRGC), reported on Sunday that the IRGC "strongly dismissed certain baseless reports" that the explosion was "related to nuclear tests or transport of missile warheads."
"The blast happened during the transportation of [conventional] ammunition," said the IRGC press chief General Ramazan Sharif. Some 15 soldiers had been "martyred," he said, dialing down initial estimates of 40, though some of the wounded were in critical condition.
Iranian media reports said the blast took place at an ammunition depot at an IRGC base in the village of Bidganeh, near Malard in the Northern Alborz province, some 30 miles west of Tehran. Officials ruled out sabotage.
Residents of the Iranian capital and the city of Karaj, respectively 30 miles west and seven miles north of the blast area, felt its power.
"Our windows shook," said a Karaj resident, who says she and her neighbors believed it to be thunder or an earthquake, according to a Financial Times in a report from Tehran.
"I heard in my yoga class today that it was a missile attack but we do not know if it was by the US or Israel," said another Karaj resident, called Farshid.
---